THE HIGHEST MARK FOR: DIVERSITY OF PLANT OILS AND PLANT EXTRACTS
THE LOWEST MARK FOR: TROUBLESOME APPLICATOR IN A FORM OF GLASS DROPPER
DOES IT HAVE SOMETHING THAT OTHER PRODUCTS DON'T HAVE? YES, IT DOES. IT'S BAMBOO SHOOTS EXTRACT
DESCRIPTION, ASSETS AND FLAWS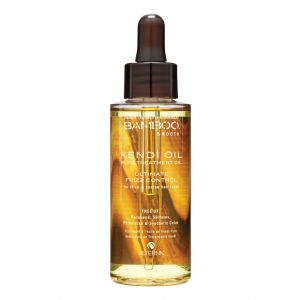 The oil was designed mostly to stop frizz and counteract dehydration of strands. Although it's recommended for all hair types, women whose strands are fine and deprived of volume should reach for a more delicate version of the cosmetic, which is ALTERNA spray. This cosmetic won't weight fine hair down.
ALTERNA – Kendi Oil Ultimate Frizz Control is a product sold in a bottle of 50 ml and it's relatively efficient; it holds out for two/three months of use. It's free from parabens, silicones and synthetic colourants, which is why, the product isn't supposed to damage nor dehydrate strands. Moreover, Alterna hair oil contains diversity of natural oils which are blended in a well-thought way. Thanks to this, the oils intensify their actions and become complementary to one another. As a result, hair gains maximum nourishment. Effects are already visible after the first application; strands become noticeably healthier and smoother, full of gloss and disciplined.
ALTERNA – Kendi Oil. Ultimate Frizz Control contains a few volatile silicones which unfortunately disqualifies the cosmetic from being a multidimensional, complex treatment that can be applied directly to scalp to regenerate hair bulbs.
Ultimate Frizz Control Kendi Oil positively surprises with the multitude of care oils. The composition contains:
Sunflower oil – counteracts frizz and static as well as prevents hair from losing water. What's more, the oil is able to smooth hair.
Jojoba oil – it takes care of maintaining sebum at the right level, accelerates self-renewal processes of cells and contains natural UV filter.
Buriti oil – is extracted from maurita flexuosa fruit. It's an exceptional oil originated from North America. It rationalizes processes ongoing inside cells as well as it slows down ageing processes of skin and hair.
Kukui oil – widely known as candleberry oil or Indian walnut oil. It's a light oil of high absorption rate. It penetrates deep into hair without leaving any oily coat. What's more, the oil is famous for its antiseptic and relieving action.
Grapeseed oil – it accelerates hair regeneration processes, delivers shine and counteracts brittleness.
Olive oil – it's able to regenerate hair in fast and efficient way. Moreover, it helps maintain right level of nourishment and slows down ageing processes. Additionally, the oil takes care of hair ends and counteracts frizz.
Avocado oil – is good at disciplining and delivering gloss to hair. At the same time, hair becomes supplied with plenty of vitamins that are required to proper and healthy hair growth.
Passion fruit oil – it delivers mineral substances to hair (calcium, magnesium, iron, potassium, phosphor, sodium) thanks to which strands start growing thick and shiny.
Moreover, action of the oils is supported by precious and rare bamboo shoots extract. Largely the substance is responsible for making hair disciplined and smooth. As a consequence, hair finally stops being frizzy.
One of the major drawbacks of the product is that it can't be used for scalp treatment, and for that reason, we can't rely on deep hair nourishment. Effect of shining, pretty strands doesn't last long and is guaranteed only as long as the product is applied to hair.
Also, applicator in a form of a glass dropper isn't well-designed; it can break by slipping from the users grasp.
HAIR OIL – MANNER OF APPLICATION
ALTERNA – Kendi Oil Ultimate Frizz Control can be used every day, by applying it to either damp or dry strands. It's suggested to treat hair with the oil once a week, and let the cosmetic sit for approximately 10 minutes right before hair washing. The oil will work as an intensively nourishing hair mask.
HAIR OIL – ACTION
Alterna – Kendi Oil Ultimate Frizz Control is a well-composed oil which provides hair with amazing look, flexibility and shine without weighting the strands down. It's got very pleasant scent that can be described as fresh and delicate.
Alterna – Kendi Oil Ultimate Frizz Control leaves hair smooth, bouncy and soft, full of vitality, and what is the most important, disciplined.