THE HIGHEST MARK FOR: BEAUTIFUL PACKAGE AND BLEND OF FOUR OILS IN THE COMPOSITION
THE LOWEST MARK FOR: PRESENCE OF SILICONES AND SCALP-IRRITATING, DEHYDRATING BENZYL ALCOHOL.
DOES IT HAVE SOMETHING THAT OTHER PRODUCTS DON'T HAVE? YES, IT DOES. IT CONTAINS COUMARIN.
DESCRIPTION, ASSETS, FLAWS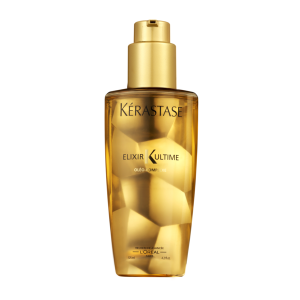 Kerastase, Elixir Ultime Oleo-Complexe is an oil closed in a beautiful, glass bottle. Carefully made package makes the product look really prestigious. The bottle of 100 ml capacity goes with a solid and nice-looking pump that works smoothly every time used.
Kerastase, Elixir Ultime Oleo-Complexe contains many natural oils which contribute to improving hair look by working immediately after application:
Corn oil – it delivers shine and elasticity to hair. It creates protective coat on strands that shields them against the sun. What's more, corn oil is ideal to treat damaged hair of high porosity.
Argan oil – it protects hair against damages caused by long and frequent exposition to heat (a blow-dryer, a flat iron). Thanks to it, hair becomes properly nourished and smooth as well as it stops getting damaged so fast.
Camellia oil – also known as tea seed oil. It works antiseptic and slows down hair ageing processes. Camellia oil is very popular in Japan and China. It can't be denied that women form these Asian regions are associated with dense, strong and shiny hair. It's because camellia oil contains up to 80% of oleic acid from omega-9 group. The oil is ideal for medium porosity hair.
Pracaxi oil – it's a comer from terrains of South America; and to be more precise, from wetland terrains of rainforests. The action it delivers is just priceless. To clarify, it strengthens hair bulbs, prevents excessive hair loss, gifts strands with gloss and elasticity.
Despite natural oils, Kerastase, Elixir Ultime Oleo-Complexe also contains synthetic substances as well as dangerous and dehydrating alcohol. This disqualifies Kerastase, Elixir Ultime Oleo-Complexe from being the intensive hair regenerating treatment. Instead, the product can be used as a beautifying and hair-disciplining conditioner that protects strands against damages and urban pollution.
Moreover, composition of Kerastase, Elixir Ultime Oleo-Complexe contains a rarely-seen substance that is included in regular hair oil products, which is coumarin. Besides its aromatic features, this substance's additional feature is stimulating and strengthening lymphatic vessels. This characteristic of coumarin helps with taking care of scalp by increasing absorption rate of the oil so as to get inside cells and hair follicles faster. The bad news is that, Kerastase, Elixir Ultime Oleo-Complexe isn't destined to treat scalp. Definately, the producer didn't use the potential of the ingredients that the cosmetic is made from.
HAIR OIL – MANNER OF APPLICATION
Kerastase, Elixir Ultime Oleo-Complexe has to be considered as a leave-in hair conditioner. It can be put on damp hair, right after shampooing (scalp must stay clear of the product since it may trigger irritations). Moreover, Kerastase, Elixir Ultime Oleo-Complexe also works fine on dry hair by making it more beautiful. All you have to do is apply it to strands and style a hairdo of your choice.
HAIR OIL – ACTION
Kerastase, Elixir Ultime Oleo-Complexe works as a conditioning and shine-delivering preparation, and additionally it protects hair against solar radiation and other adverse weather conditions. Although the cosmetic is efficient, it can weight hair down. Women of low porosity hair are advised against using the very product since Kerastase, Elixir Ultime Oleo-Complexe's oil blend isn't proper for treating hair of this type.