THE HIGHEST MARK FOR: PACKAGE, FRAGRANCE AND EFFECT OF HIGHLIGHTED HAIR
THE LOWEST MARK FOR: GREAT NUMBER OF SILICONES, ALCOHOL AND THE FACT THAT THE OIL WEIGHTS HAIR DOWN
DOES IT HAVE SOMETHING THAT OTHER PRODUCTS DON'T HAVE? YES, SHIMMERING GOLD PARTICLES BEAUTIFYING BODY AND HAIR
DESCRIPTION, ASSETS, FLOWS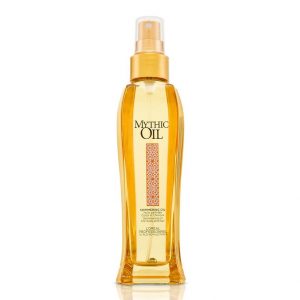 L'Oréal, Mythic Oil, Shimmering Oil is a 100 ml hair oil closed in an elegant, gloss phial of oriental design. The oil constitutes Mythic Oil line. The line is composed of various shampoos, conditioners and hair oils that serve different hair needs. Despite the compositions of the oils vary, all of them contain skin-irritating alcohols and silicones. Nevertheless, L'Oréal, Mythic Oil, Shimmering Oil is exceptional. It's designed to beautify and highlight not only hair but also body. It's due to tiny, gold particles that stay on hair and skin while after being sprayed all over the body.
L'Oréal Mythic Oil, Shimmering Oil is easy to apply because of its atomiser. The gold particles cling to hair, shimmer subtly and emphasize golden reflexes of hair. Despite L'Oréal Mythic Oil, Shimmering Oil's beautifying features, the producer didn't stint on adding natural oils that nourish and take care of hair:
Sesame oil – this oil is recommended for medium porosity hair. It's made from oleic acid (50%) that belongs to omega-9 group. It delivers gloss and softness to strands. At the same time, the oil protects hair against damaging action of solar radiation.
Almond oil – is a delicate oil which is used to take care of even delicate baby skin. It protects hair, has antiseptic action and intensifies shine of strands. What's more, it makes hair styling easier and accelerates drying time. It consists in 68% of fatty acids from omega-9 group. Almond oil is perfect for hair of medium porosity.
Magnolia oil – it maintains moisture at right level by improving water-lipid structure in cells. Magnolia oil is mainly composed of essential fatty acids EFA (mainly oleic acid) which makes the oil perfect for medium porosity hair.
Good selection of oils destined only for medium porosity hair is a big plus of L'Oréal Mythic Oil, Shimmering Oil. It's a pity that the product is only a hair beautifying mist working on the hair surface. It's worth mentioning that silicones impede oil molecules from getting inside hair as benzyl alcohol can irritate if used too frequently.
However, the good side of L'Oréal, Mythic Oil, Shimmering Oil is its versatility since it can be used to treat not only hair but also skin.
HAIR OIL – MANNER OF APPLICATION
The best if you apply the oil to dry hair, as a last step of hair styling. All you have to do is spray it onto a hairdo so as to add shine and provide hair with amazing look. L'Oréal, Mythic Oil, Shimmering Oil can be applied to body in order to highlight cleavage or shoulders with shimmering gold particles.
HAIR OIL – ACTION
L'Oréal, Mythic Oil, Shimmering Oil is good at hair conditioning and providing shine that is intensified by multitude of tiny, gold particles. Natural oils, which the oil contains, take care of hair so it can gain vitality and shine. Also, the oil will pamper skin of your body.