THE HIGHEST MARK FOR: FREE OF PARABENS, SULFATES AND PHOSPORANES COMBINATION
THE LOWEST MARK FOR: HIGHLY SCALP-IRRITATING BENZYL ALCOHOL; THE OIL CAN'T BE APPLIED TO SCALP
DOES IT HAVE SOMETHING THAT OTHER PRODUCTS DON'T HAVE? YES, IT DOES. GREAT CONCENTRATION OF ARGAN OIL
DESCRIPTION, ASSETS AND FLAWS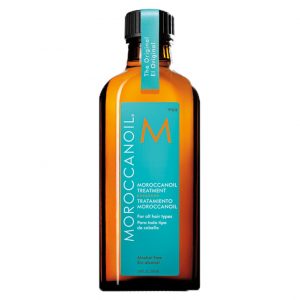 Moroccanoil brand continuously advertises argan oil as the best substance (extracted from nuts) of hair pampering action. Their product named Moroccanoil Treatment is an oil closed in a flat, dark bottle that resembles more of a medicine than a cosmetic. The oil is available in two capacity versions and its price is considered high. Is Moroccanoil Treatment worth it?
Argan oil is a unique oil because the number of fatty acids enables it to be assigned to both medium porosity hair as well as to high porosity hair (extremely damaged). However, in order to help argan oil show its real power, the cosmetic must be applied not only to hair cuticles but also to scalp. Only this way guarantees obtaining complex protection and hair regeneration that depends on balancing processes that takes part in scalp. This will also reinforce hair bulbs. This is how we can expect our strands to grow thick and strong.
Sadly, due to presence of silicones, fragrances (parfum) that might contain alcohol, as well as monohydric and skin-irritating alcohol, Moroccanoil Treatment can't be used to put it directly on scalp. Indeed, this is a great minus because natural oils should work mostly on hair bulbs and scalp. This is the place where health and beauty of hair have its source and without proper scalp care we'll never live to see the day when our hair is healthy and strong (it won't grow dense as it won't stop falling out).
This, in turn, leads to the conclusion that Moroccanoil Treatment is only a superficially working, conditioning treatment of hair beautifying action.
HAIR OIL – MANNER OF APPLICATION
Moroccanoil Treatment has to be applied to hair only, starting from the mid-lengths. Basically, the oil can be put on either damp or dry hair. Moroccanoil Treatment will also intensify action of a hair conditioner or a hair mask – all you need to do is mix a few drops of the oil with one of the products and proceed with applying the mixture to strands. Also, for better pigment absorption, the producer recommends using Moroccanoil Treatment during hair dyeing procedure. Thanks to this, the new colour will stay true longer whereas hair won't get so damaged because of the dyeing.
HAIR OIL – ACTION
Action of Moroccanoil Treatment would be way better as it would deliver long-run effects of healthy and strong hair if the product could be applied to scalp to help argan oil penetrate into hair bulbs.
As conditioning and dyeing-supporting treatment, Moroccanoil Treatment turns out to be really satisfactory. Additionally, the cosmetic is good at delivering moisture and gifting hair with shine without weighting strands down. Moreover, the product will also protect strands against adverse action of external factors. Unfortunately, it's too little especially when realizing how much the cosmetic costs. It's a pity because Moroccanoil Treatment has a big potential.