HIGHEST MARK FOR: NATURALNESS, FINEST QUALITY, LIGHT FORMULA, LACK OF ARTIFICIAL AROMAS AND COLOURANTS, ALL-PURPOSENESS, VARIETY OF WAYS TO USE, 100% EFFECTIVENESS IN SKIN AND HAIR CARE
LOWEST MARK FOR: ONLY AVAILABLE ONLINE
DOES IT HAVE SOMETHING THAT OTHER PRODUCTS DON'T HAVE? YES, IT DOES. ECOCERT CERTIFICATION GIVEN TO BEST ORGANIC COSMETICS, COLD-PRESSED AND UNREFINED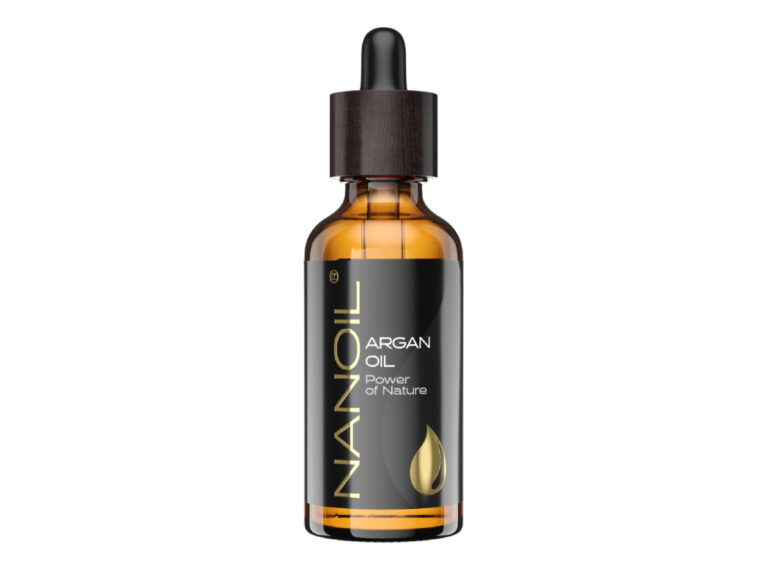 Searching for a multi-purpose oil to use on your hair and scalp that also works well for body, face and nail care? Nanoil Argan Oil is right for you.
Cold-pressed, unrefined, 100% organic argan nut oil. This simple-looking product holds just one ingredient and nothing more – zero preservatives, no silicones, lack of artificial fragrances and colourants. Only nature in its purest form! What's important, the oils in Nanoil line have the Ecocert seal proving they're fully organic.
You should also know that Nanoil Argan Oil is a very lightweight oil which neither weighs down hair nor makes skin oily. It acts as a great enhancer for all hair and skin types.
All you need is a few drops of the oil (which is easy to apply thanks to a precise, glass dropper) to feel the silk touch and amazing effect of Nanoil.
ARGAN OIL – WAY OF APPLICATION
This natural argan oil by Nanoil gives a surprisingly large number of possibilities so your hair and body care won't be monotonous. It's best to use it solo, rubbing into skin and hair for better condition, softening and strengthening. However, if you don't want to limit yourself to the simplest method, you can use Nanoil Argan Oil:
for wet or dry hair oil treatment
for intensive hot oil hair treatment
for heat-styling protection
as serum to keep hair ends from splitting
as scalp treatment
as well as to care for your body: let Nanoil be your nail repairing conditioner, face serum, make-up primer, body massage oil, make-up remover, etc.
NANOIL ARGAN OIL EFFECT
The thing that we're always most curious of is how a product works. Nanoil is a versatile cosmetic but the saying 'good at everything but great at nothing' doesn't apply in this case. If you apply it regularly, you're going to be stunned by the long-term effects. This kind of natural argan oil beauty care is a real treat and your hair and skin will love it.
Application of Nanoil Argan Oil to hair boosts moisture, makes hair feel soft, adds smoothness and elasticity, deeply nourishes, strengthens, repairs, prevents split ends, protects against heat and sun, gives a lovely shine.
Application of Nanoil Argan Oil to scalp strengthens follicles, blocks hair loss, brings relief to itchy scalp, may encourage hair growth and add volume.
Last but not least, application of Nanoil Argan Oil to skin of body and face keeps skin moisturized, smoothes out, brings relief, gives sun protection, fights free radicals and has anti-ageing effect, cleanses skin and nourishes, prevents occurence of problems such as acne, wrinkles, cellulite and stretch marks.
Product's site: nanoil.co.uk/argan-oil