THE HIGHEST MARK FOR: PERFECTLY SELECTED NATURAL OILS, WHICH MATCH PARTICULAR HAIR POROSITY, GUARANTEEING 100% PRODUCT'S EFFICIENCY, THE PARABEN-FREE FORMULA
THE LOWEST MARK FOR: N/A
DOES IT HAVE SOMETHING THAT OTHER PRODUCTS DON'T HAVE? YES, IT DOES. KERASTIM AND BAICAPIL COMPLEX.
DESCRIPTION, ASSETS AND FLAWS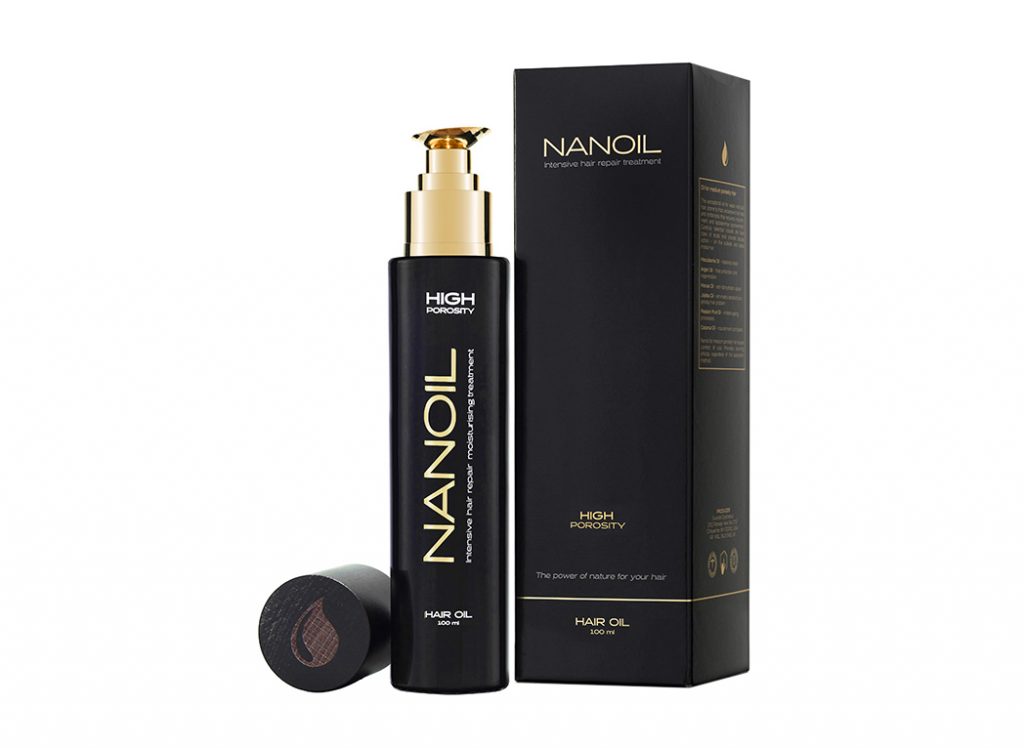 Nanoil hair oil is a product that has been perfected in any aspect. A lovely bottle is just the first point where the fascination about the cosmetic begins. The most important though, is what Nanoil hides inside the bottle; and these are natural, free from parabens and comedogenic substances.
The beauty product abounds in vegetable oils that have been considered as precious, especially in hair care, since ages.
The most crucial thing about Nanoil is the fact that it's the best product created to match hair type and its porosity level. Therefore, the oil has more than just one version, each of which answers different hair condition and is in tune with the needs of the scalp and strands. Three Nanoil oils contain the wide range of hair caring substances, such as silk, keratin and lanoline mixed together with the unique and innovative complexes that reinforce hair bulbs, regenerate, fix and contribute to significantly accelerated hair growth. Kerastim and Baicapil, because these are the very substances, base their action on natural ingredients that don't only encourage baby hair to grow but also stimulate even the unactive hair bulbs to wake up and make a hairdo thicker. Thanks to this, hair gains volume that is far from being typical.
Moreover, each Nanoil version contains the blend of perfectly balanced oils which are suitable for a particular hair porosity. They are in tune with a particular (one out of three) type of hair and supply strands with exactly the substances that they need in order to grow healthy and look beautiful. This makes Nanoil a product satisfying hair needs, providing harmonic care, regeneration and protection.
Nanoil hair oil is efficient. 100 ml of the product lasts long and the cosmetic's consistency facilitates easy application. Nanoil doesn't run down the hair. It isn't also too dense, so it's easy to coat the entire length of hair with the cosmetic.
HAIR OIL – MANNER OF APPLICATION
Nanoil is a product that can be used in a few ways. Depending on the amount of time we can devote to oil hair treatment and the outcomes we would like to obtain, we can use Nanoil as:
the overnight treatment deeply regenerating hair and the scalp
a hair mask (applied to damp or dry hair)
an additive to a hair balm
a leave-in conditioner
a hair-disciplining lotion
an emulsion gifting hair with gloss
a serum for damaged hair ends
a heat protection oil
Nanoil hair oil can be put on dry or wet hair, before shampooing or straight after the procedure as well as several times throughout a day – always when you want to bring out the shine of the hair and improve its looks.
HAIR OIL – ACTION
The action of each Nanoil version is based on vitamins, minerals and fatty acids as well as phytosterols contained in the hair oils. These natural substances are able to regenerate strands in the best way because they fit into hair structure. The secret is hidden in the appropriate selection of oils mixed in the right amounts. Nanoil is the product suitable for each hair porosity type because each of the three versions contains the best blend destined for a particular hair type.
Each version of Nanoil takes care of hair and the scalp, improves processes that occur in the scalp, strengthens, regenerates strands, contributes to hair accelerated growth, intensifies the shine and makes strands look beautiful as they have never been before. Extremely damaged hair gets their gaps filled and the flat hair, deprived of the volume, gains lightness, softness and gloss. All of these is possible thanks to natural, free from parabens, SLS and SLES substances that Nanoil is made from.