THE HIGHEST MARK FOR: FREE OF PARABENS, SILICONES AND ARTIFICIAL COLORANTS
THE LOWEST MARK FOR: NICE-LOOKING, YET UNHANDY BOTTLE AS WELL AS COMEDOGENIC 2-ETHYLHEXANOL (ESTER)
DOES IT HAVE SOMETHING THAT OTHER PRODUCTS DON'T HAVE? YES, IT DOES. FORMULA CONTAINING 99% OF NATURAL SUBSTANCES
DESCRIPTION, ASSETS AND FLAWS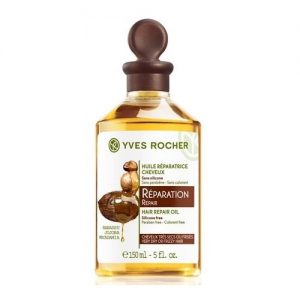 Yves Rocher, Hair Repair Oil is a product of 150 ml capacity. It's closed in a dark, plastic bottle that goes with a cork. The great capacity lets the user enjoy the product long. What's more, one of Yves Rocher, Hair Repair Oil's pluses are the materials used to make the bottle. The phial is made from almost completely recyclable materials.
Another advantage of the cosmetic is the scalp-friendly composition since it lacks any artificial, aggressive substances.
Yves Rocher's bottle hides plenty of natural oils:
Sunflower oil – perfect for damaged hair of hair porosity. It softens, strengthens hair and slows down ageing processes thanks to vitamin E and carotene.
Rape oil – it's a diversity of vitamins A, E, K as well as fatty acids from omega-3 and omega-6 group that are ideal for damaged, high porosity hair.
Castor oil – it's good at delivering shine and conditioning hair. It's ideal for low porosity hair.
Jojoba oil – it softens hair and makes it shiny and silky smooth. This is an ideal oil for medium porosity hair. It takes care of scalp by regulating processes that take part inside this tissue.
Borage seed oil – it counteracts brittleness and fights back excessive hair loss.
Babassu oil – it makes hair more elastic, protects against urban pollution and high temperature. It's ideal for low porosity hair.
Macadamia oil – it prevents hair ageing processes. It's absorbed fast and when finally inside hair, it doesn't weight strands down. Recommended for medium porosity hair.
The assortment of the oils is fairly surprising; we can find oils destined for all porosity types. Unfortunately, this versatility of Yves Rocher oil makes low porosity hair flat whereas it can frizz strands of high porosity.
Yves Rocher, Hair Repair Oil contains 99% of natural substances.
It has very delicate and pleasant scent that probably each woman will find appealing. Yves Rocher, Hair Repair Oil will work fine as a hair mask that is absorbed fast and improves hair condition effectively. When it comes to the product's drawbacks, it's the not well-thought selection of ingredients. It's highly possible that natural oils designed for various hair types may interfere with each other. For that very reason, it's advised against keeping the product on hair longer than 10 minutes.
HAIR OIL – MANNER OF APPLICATION
The hair oil has to be applied before washing. It's enough to put it on hair, let it sit for approximately 10 minutes and rinse afterwards. In order to intensify the action of Yves Rocher, Hair Repair Oil, it's suggested wrapping head with a towel. Thanks to this, it'll be easier for hair to absorb oil faster and more efficiently.
HAIR OIL – ACTION
Yves Rocher, Hair Repair Oil's aim is to improve condition of dry and damaged hair. The effect of smooth, silky and full of gloss hair is already visible after the first use. Basically, the oil is a great alternative to regular hair masks. It'll work fine if applied right before some big event since it's good at conditioning strands.